The purpose of this vignette is to demonstrate how to utilize the suite of R packages developed by Certara, RsNLME, for a robust and reproducible pharmacometric workflow using R. In the following examples, we will demonstrate how to:
Load the input dataset and visualize the data using ggplot2
Define the base model using Certara.RsNLME as well as mapping model variables to their corresponding input data columns
Fit the base model
Import estimation results into R and create commonly used diagnostic plots using xpose and Certara.Xpose.NLME
Accept parameter estimates from our base model execution, and create a new covariate model
Fit the covariate model and create covariate model diagnostic plots
Accept parameter estimates from the covariate model execution, and create a new VPC model
Fit the VPC model and create a binless and binned VPC using tidyvpc
Demonstrate functionality inside Certara.ModelResults and Certara.VPCResults to facilitate code generation and reporting of model diagnostic plots, tables, and VPC.
Before we begin, a quick note about the differences between S3 and S4 objects in R. Most objects in R utilize the S3 class representation, and elements inside the S3 class object can be accessed in R using the $ operator. However, model objects in RsNLME utilize the S4 class system. For S4 objects, we access elements inside the class using the @ operator (e.g., print(model@modelInfo@workingDir) to print the directory of model output files).
For more details, see S4 versus S3.
Note: The following vignette was created with RsNLME v1.1.0. The corresponding R script used in this example can be found in RsNLME_Examples/TwoCptIVBolus_FitBaseModel_CovariateSearch_VPC_BootStrapping.R. See RsNLME Example Scripts.
---

Perform VPC analysis for covariate model
After generating various model diagnostic plots and tables, we may want to generate a Visual Predictive Check (VPC) next.
Repeating what we did when we copied our covariateModel from our baseModel, we will use the copymodel() function to create a new model object with a new run directory, then execute our new model using the vpcmodel() function.



covariateModelVPC

 

<-

 copyModel

(

covariateModel

, acceptAllEffects 

=

 

TRUE

, modelName 

=

 

"VPC_TwCpt_IVBolus_SelectedCovariateModel"

)
Execute vpcmodel() function.



covariateVPCJob

 

<-

 vpcmodel

(

covariateModelVPC

)




#> Using localhost without parallelization.




#> sharedDirectory is not given in the host class instance.




#> Valid NLME_ROOT_DIRECTORY is not given, using current working directory:




#> C:/Users/jcraig/Documents/GitHub/R-RsNLME/vignettes




#> TDL5 version: 23.10.1.283




#> Servername: no-net




#> Sentinel License file: C:\PROGRA~1\Certara\NLME_E~1\lservrc




#> 




#> License Name: NU_PMLCommandLine_N




#> License Type: Commercial




#> Expiration Date: 31 Jan 2024




#> Current Date: 27 Nov 2023




#> Days until program expires: 65




#> The model compiled




#> 




#> Trying to generate job results...




#> Done generating job results.
Generate VPC diagnostics
To generate our VPC using the tidyvpc package, we can extract the oberved and simulated data from the return value of the vpcmodel() function. Additionally, the observed data file for continuous observed variables is saved as predcheck0.csv and the simulated data file as predout.csv in the model output directory (e.g., covariateModel@modelInfo@workingDir).
For more details on syntax, see tidyvpc website.
Next, we'll generate both a binned and binless VPC using the tidyvpc package.
For our binned VPC, we'll specify the pam binning method with 8 bins.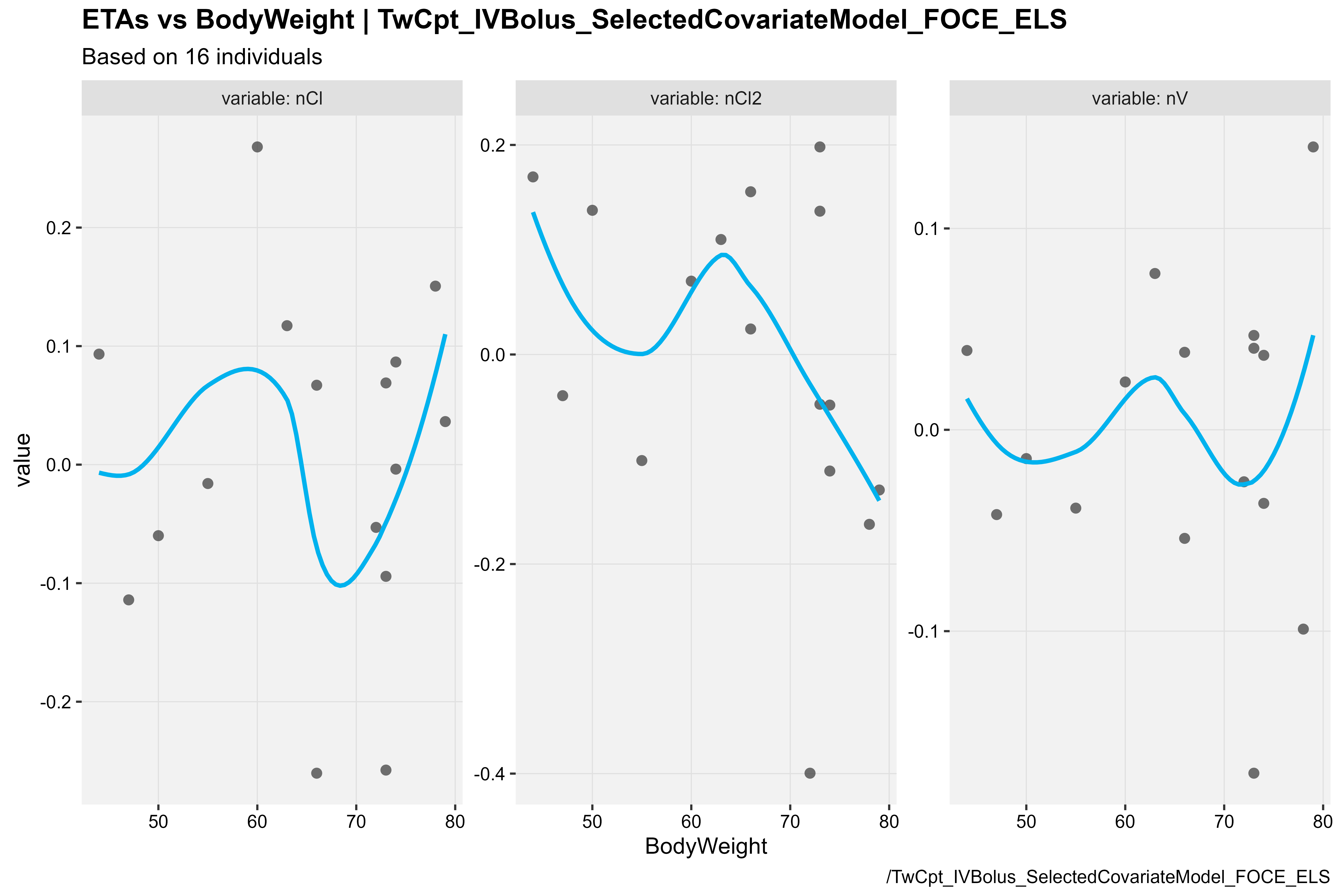 For our binless VPC, we'll automatically optimize the lambda smoothing parameters (in the additive quantile regression based on AIC) by setting optimize = TRUE in the binless() function.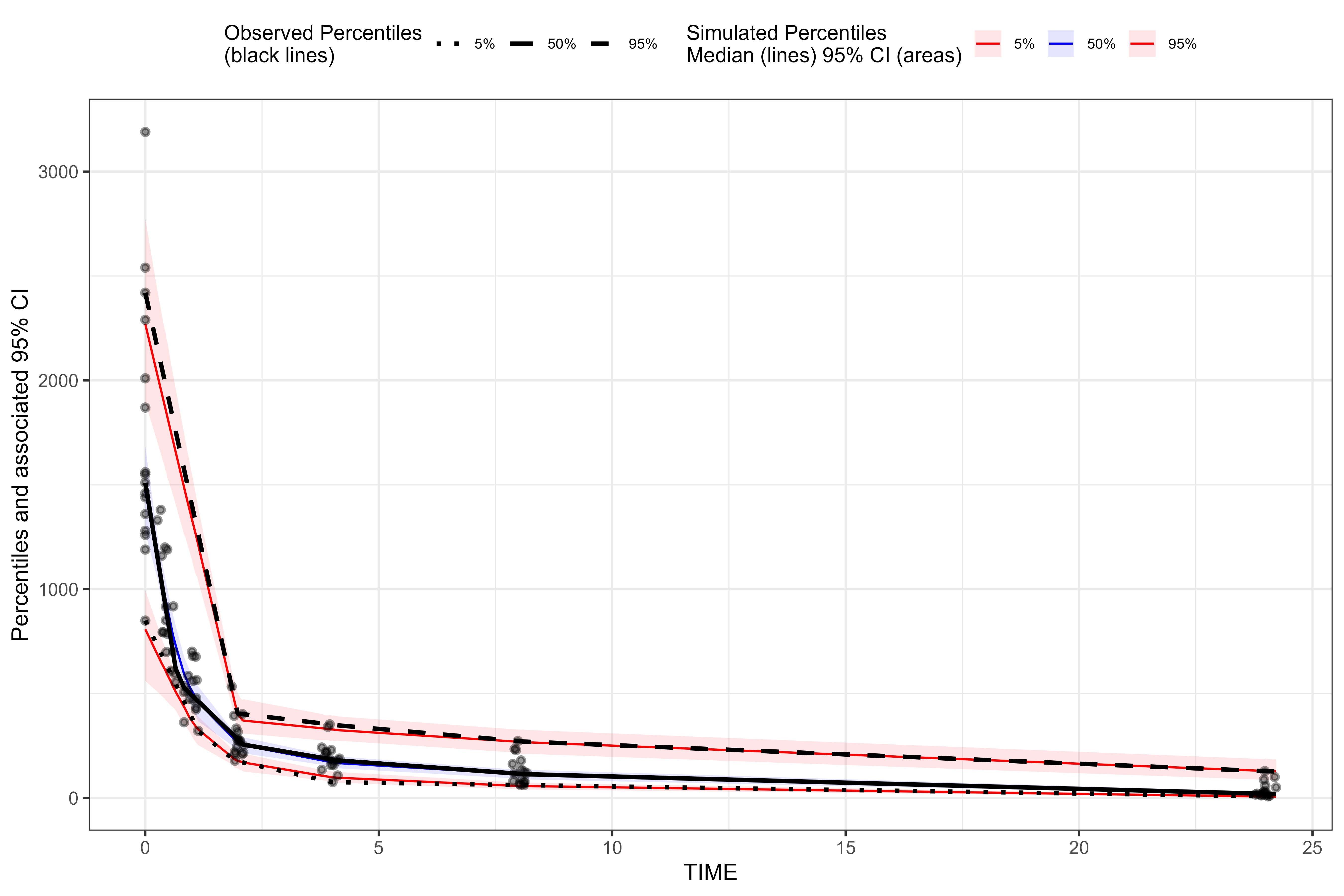 We can see that the results of the traditional binned VPC resemble the results of the binless VPC. For more details about the binless methodology, see A Regression Approach to Visual Predictive Checks for Population Pharmacometric Models.